Palmyra, Stephenie Meyer, Servant to a King and Desire of Our Hearts - Half Price
by Sariah S. Wilson
I just got home from Palmyra, New York where I attended a two-day signing alongside authors L.C. Lewis and Matthew B. Brown (and came to find out that not only do we all share the same publisher, but the same editor!) at Latter-Day Harvest.
Our signing was attended not only by the LDS masses, but by rather loud anti-Mormons. I have a hard time figuring this out. What exactly is their goal? To irritate LDS members? (If that's it, goal accomplished.) Do they think someone on the street is going to stop, say, "Hey...you're right. You're acting so Christlike right now in your utter disdain and condemnation of the people around you. Now that's a church I'd like to join - the kind that stands on street corners and screams at people. I renounce my faith!" (And speaking of screaming at people, one of the screamers kept talking about the "Laminates." You know, if you're going to try and insult people, the least you could do is pronounce things correctly.) One of the fun parts of the afternoon was Brother Brown getting to meet the author of an inflammatory pamphlet, which Br. Brown had accepted on a previous trip and wrote a 300-page book about in response. They went toe-to-toe for a while (with large hand gestures involved) but you can all probably guess the outcome of that chat.
I also think I don't get it because, for example, I can think of an organization that I consider to be an evil cult. But if I heard that group was coming here to Cincinnati to have a big convention, never in a million years would I go to the parking lot and yell things at them (because seriously, I'm not that mean nor do I have that kind of time to waste). If no one's getting hurt, why all the hullabaloo about how people worship? (Sorry for the venting. I know Utah people are probably used to it - I haven't been around screaming antis in a long time.)
Anyway, L.C. Lewis is fun and open and willing to get out of her comfort zone to meet people and tell them about her book. She tried to get me to join in - I just couldn't do it. I'm okay when people approach the table I'm at, because then I can start a conversation, but I can't just walk up to people and say things. Just know that I did give it an effort, though. Sr. Lewis spent a great deal of time in research and knows her stuff. If you're a historical fiction fan, you should check out
her series on the War of 1812
.
Matthew B. Brown knows everything. I wanted to buy all of his books. It was fun having him confirm for me the things I know and teach my Sunday School kids, things I think lots of adults don't even know (like the fact that Moroni was not alone in his travels). For anyone interested in discussions/explanations for deep doctrinal things, you should check out his books. He has books on symbols, a ten-year work on temples, Church history, gifts of the Spirit, Joseph Smith, etc. I got his "
Plates of Gold
." I'm looking forward to it.
Friday night I went to the Hill Cumorah pageant (my first time). Saturday morning I went to the Joseph Smith Farm - what a phenomenal experience. I stood in that
log cabin
and thought this is the place where the Smith family lived. Where Joseph saw Moroni. Where he told his family the things he learned. It was so tiny! Then on to the
Frame House
where I got to touch the hearth where he hid the plates. And then to the small cooper shed in the back where the plates had been hidden under the floorboards. That got me all choked up. And the
Sacred Grove
- to stand in a place where I know Heavenly Father and Jesus Christ came - wow. It was overwhelming. It was just like the song - bees were humming, sweet birds singing, music ringing through the grove, sunlight streaming through the trees. It was so quiet and peaceful and beautiful.
After my tour of the farm, I went to the bookstore. When I got there, one of the managers (Roxane) told me that two young women saw that I was signing and went a little nuts. They'd read my second book, but not my first. They bought the first and then went on to wait over an hour for me to arrive (I didn't have a set time for my signings). Their family finally made them leave, but they left their cell phone number with the manager for when I arrived so that she could call them to let them know.
So she called as soon as I got there, and they got there a little bit later. It was my Stephenie Meyer moment. They were giddy and excited to meet me. They told me they were my number one fans, and when I told them about my new book, they got sooo excited. They wanted to take pictures with me and hug me and yes, I thoroughly enjoyed the gushing. I thanked their father for bringing them back, and he told me that once they'd discovered that I was there, there was no rest for anyone else until they could return and meet me. I had actual fans! LOL No, no one else knew who I was the rest of the time, but those few moments were fun. So special thanks to Summer and Amirah for making my entire weekend!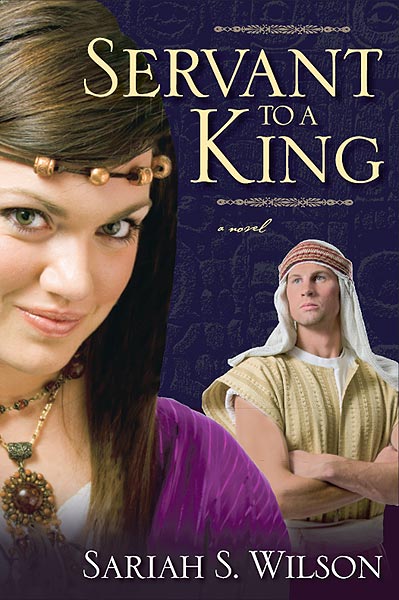 Speaking of my new book, I think it might actually be in stores now. I got my box of copies (always exciting!) while I was away. You can also
order it online at Deseret
.
Unfortunately, Deseret's currently got "Servant to a King" listed under the Family - Parenting/LDS books, which is no fun because then I can't compulsively check my ranking on the LDS Fiction list.
Speaking of ordering online, Seagull Book's online store has "Desire of Our Hearts"
on sale for half off
. So no more excuses - it doesn't get any less expensive than that!