Servant to a King (i.e., The Ammon Book)
by Sariah S. Wilson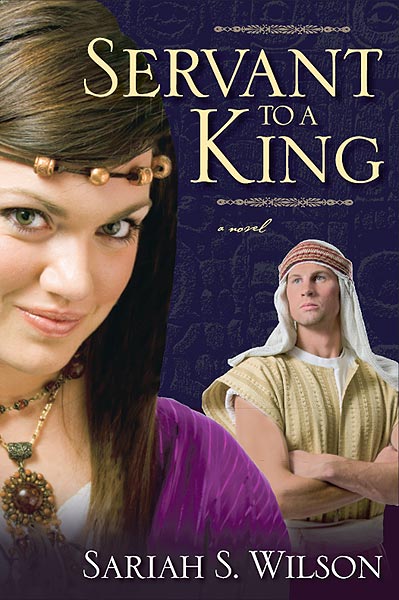 When Isabel's father offers her hand to a Nephite, she's shocked and angry—and when the offer is refused, she's utterly furious. How dare this Ammon refuse to marry the beautiful eldest daughter of King Lamoni! There could only be one explanation for this unforgivable dishonor: Ammon must be a spy.

Isabel closely watches her enemy, expecting to find evidence of treachery, but instead she finds evidence of loyalty, bravery, and kindness. Afraid to admit her growing affection for Ammon, Isabel hides her true feelings behind a headstrong façade. Yet when the vile Lamanite prince Mahlon threatens to take her as a bride and wrest the kingdom from Lamoni, Isabel must choose between her pride and her life. Meanwhile, the risks of love test Ammon's faith and courage as never before.

Will Ammon thwart the marriage of Isabel and Mahlon before it's too late? And could a Lamanite princess and a Nephite prince really live happily ever after?
So here it is - my new book. I just got the cover and apparently it comes out in two weeks.
I have to say I'm loving the back cover copy (the bolded text above). I've never been very good at this sort of thing (and really admire when others can boil a book down to a couple of paragraphs, so big kudos to whomever came up with it), and I think this one makes my book sound pretty exciting! I think I love the last line the best though. Because you know how I am about happily ever afters.
It is currently
available for pre-order over at Deseret
. This should be the first in a four book series with the sons of Mosiah (although they'll all be stand alones, they will have characters from each of the books making cameos).
But my current work in progress for Covenant is not a Book of Mormon book. I'm trying my hand at a historical romance set in a completely different time period (and another one of my favorite eras). We'll see how that goes. I also have an idea for a contemporary LDS series that I'd love to take a crack at if time ever permits.
And yes, this is my "The Nephite Who Loved Me" book. I still think that title could have worked.