Desire of Our Hearts, Business Cards, Fake England, Stephenie Meyer and The Frog
By Sariah S. Wilson
Okay, first and foremost, I have my new cover for my next book, "Desire of Our Hearts." Here it is for your viewing pleasure: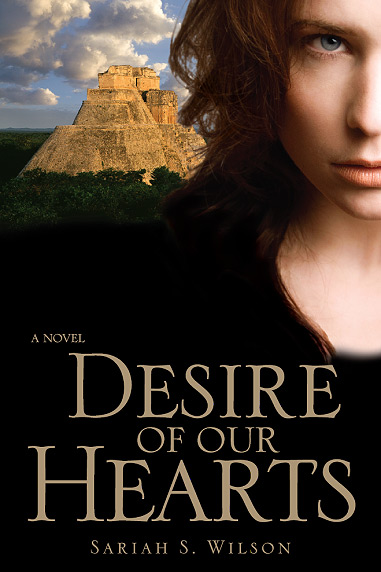 Pretty nice, eh?
I used said cover to make some business cards, return labels and postcards, as
Vista Print
, my new favorite online company, is selling them for $1.00 for like 250 of them. I ordered $80.00 worth of stuff and paid $8.37. Shipping is on the higher side, but hello, saving 90% completely rocks.
Go there now
! (And if you can't get the $1.00 deal for the postcards and stuff, drop me an email and I'll forward you the advertisement I have for it.)
Next, I went to the Renaissance Festival (or Fake England as my children call it) with my family today. My husband and I have been going every year since before our children were born. It's not really my thing - I don't, you know, dress up. But I am apparently one of the few women who do not. The display of oversized flesh pushed out and over from corsets…well, I will stop there. We did have a good time (especially my boys, the baby not so much). They got to ride a camel and go on a big slide and a dragon swing. My husband got to prove his masculinity in the strength competition - one of those swing the mallet/ring the bells deal (what is that called?). If you ring the bell, then you're invited back to compete against everyone else who rang the bell that day. My husband manages to beat all those people every year and wins the prize. My kids really can tell all their friends that they have the strongest dad.
For me, the gratuitous flashes of flesh, the ever present stench of cigarettes, the uncomfortable benches for the shows, the overpriced crap for sale ($53.00 is reasonable for a child's shield, right?) and the vendor/performers' wannabe English accents that are bad on a level of Kevin Costner in "Robin Hood," it's not my favorite thing. But I love spending that time there with my family. Watching the way my boys' faces lit up while they beat on their dad with "Safety Swords" was just the best.
And lastly, I "met" Stephenie Meyer this week. She came to Cincinnati to do a signing at the Joseph-Beth bookstore. My youngest sister (she's 15) wanted to come along as I got her hooked on the series. The Frog decided to tag along too, just to find out what all the hullabaloo was about.
I fairly expected pandemonium.
I was not disappointed.
No parking. Anywhere. I finally found a spot and someone tried to swipe it from me, but I was victorious and had to park badly because I just couldn't quite straighten out from how I had pulled in to the spot.
Inside there was a mass horde of teenage girls. A crazy, possibly psychotic, mass horde of teenage girls. I've never seen such a thing - you would have thought Edward Cullen himself had shown up. There was a Q&A which I mostly didn't listen to because my sister had wandered off and because the shrieking in my ear had rendered me temporarily deaf. The poor Frog almost got trampled on.
I found my sister, we got tickets for the line. It was arranged in groups of 30 alphabetically. We got "S" as our place in line. We were told that there would be no posed pictures. Only books would be signed (no posters or memorabilia of any kind).
So two and a half hours later, our letter was finally called. I was excited to meet Stephenie (and I decided that I could use her first name because I knew that in a short amount of time we would be such good friends), to hopefully get a chance to talk to her.
We were approached in line by a store employee who asked us how to spell our names. She wrote it down and stuck it inside the book, on the page Stephenie would sign. I was impressed with this idea. Not too long after that another employee came by and asked to see all our books. We were told Stephenie would only write our names in "Eclipse" but would sign the others. The employee tucked the edge of the dust jacket onto the page Stephenie would autograph for each book.
When we reached the stairs, we were instructed by another employee to have our books out and ready to sign. At the top of the stairs another employee double-checked to make certain that the book's dust jacket would turn to the right page. I had gone from being impressed by their thoroughness to being a little afraid of the anal retentiveness.
Yet another employee standing at Stephenie's table turned the books to the right page for her to sign. It was like a well-oiled machine. No one got to really say anything to Stephenie, because she would write the person's name and then sign hers, which consisted of an S and an M. That's it. Not even a line after the letters. I didn't get a signature. I got initials. Admittedly, I do understand how tiring it must be (we guesstimated there were 600 people getting autographs, and while they all had at least one book, most had two or three or more (such as my sister who got books signed for her friends)).
When my book was slid across the table to Stephenie, I told her that I was a member of a specific message board that she belonged to. She asked me, "Which one?" and it confused me because there is a main board with several sub boards. I answered, "All of them." She said, "No, I mean what's your handle?" "Oh. It's Sariah." (Very inventive of me, isn't it?) She then told me another member of the board had come down from Columbus and I replied that I knew - I was the one who told her Stephenie would be in the area.
And that was it. My sister didn't get to say anything at all because in that amount of time, Stephenie had signed my two books and all of my sister's books. We figured it took all of 20 seconds for our conversation to take place. The poor Frog didn't even get a chance to say hello. He insisted that, despite the instructions from the store, we get a posed picture of him and Stephenie:
How did everyone do on their goals this week? I went up 0.9 pounds, as I feared I might. I did meet all of my exercise goals this week. I am committing to continuing to exercise five days, to do strengthening exercises and to be more careful about my diet.