The Frog Spotted in Cincinnati...
by Sariah S. Wilson
More specifically, he hopped over to visit me this afternoon at the Barnes and Noble in West Chester for the Reader Appreciation Day.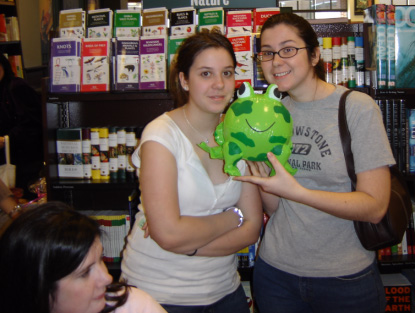 Here we have two customers who bought copies of Secrets in Zarahemla. They are also known as two of my sisters. Sisters who I made stay to keep me company. (You can also see me in the bottom left corner.)
This was my first booksigning, and it was a bit nerve wracking. This was not helped by where I was placed. I was seated next to Jennifer Crusie, which may not mean much to non-romance readers, but Crusie is like a romance rock star. Not only does she have fervent fans, she has fans who have named themselves The Cherries, and often have accompanying cherry paraphernalia.
So there I sat, facing a sea of Cherries who all waited anxiously for Crusie to appear. I thought it might be semi-humiliating to sit there while Crusie signed book after book and I, you know, didn't, but I instead decided to find a silver lining in my situation and take the opportunity to watch a master at work and to listen to how she interacted with her fans.
But until Crusie showed up, I made my sisters stay and talk to me just so that I didn't have to sit and stare. Because the only people here in Ohio that my book would appeal to are 1) my family and 2) members of my ward (and it should be noted that my family comprises half of said ward). The Frog kept me company too.
But unfortunately for The Cherries (and for me as I was looking forward to gaining some signing wisdom), Crusie didn't make it. She pulled out of her driveway and into a ditch, and had to wait for a tow truck to pull it out, and said tow truck had to wait for a snow plow to clear a path for the tow truck to get to her car. She didn't make it to the signing, and many fans waited almost an hour before it was announced that she wouldn't be able to come (which made me wish I had fans who would wait an hour to see me). But Crusie graciously offered to come the next Saturday and sign books for all those Cherries who missed her.
And speaking of signings...while it's easy enough to write out things to those you love/know well, what in the world are you supposed to say in an inscription to acquaintances or people you've never met? I found myself struggling several times today on what I should say, so for those veteran book signers out there, what do you say when you sign books? Or for those who have acquired signatures from authors, what sorts of things have authors written to you that you liked?